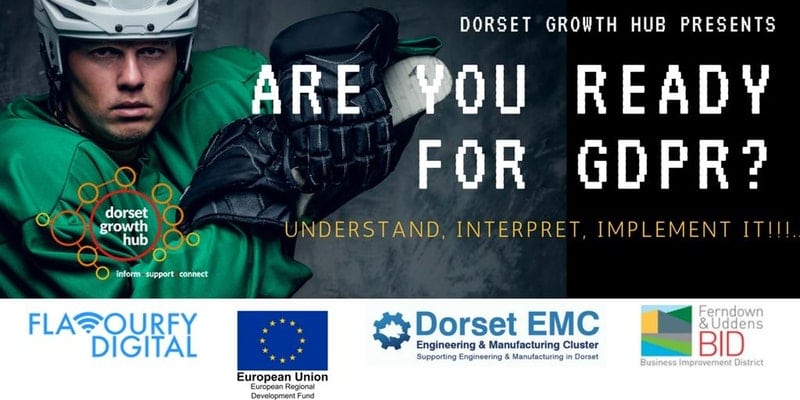 Are you GDPR ready?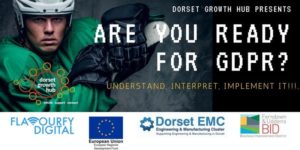 FREE WORKSHOP:
DATE AND TIME
Thursday 15 February 2018, 08:00 – 12:00
LOCATION
Peartree Business Centre
Ferndown Industrial Estate
Cobham Rd
Ferndown
BH21 7PT
To Register your place book HERE
Described by the Information Commissioner as "the biggest change to data protection law for a generation", the General Data Protection Regulation (GDPR) updates the UK's data protection laws, bringing them up to date with the 21st century and in line across Europe. But with the compliance deadline approaching fast, is your business prepared? Have you got a plan of action in place to make sure you're ready for 25th May?
If you process personal data (which could be data relating to your clients, your employees, or even the businesses you work with) then GDPR applies to you. Compliance is about making sure you understand the GDPR, what it means for your business, and putting in a plan of acton to meet compliance as well as manage ongoing compliance. So, join this workshop to find out what the GDPR means to you and some practical tools and tips to help you be compliant.
We'll be covering:
Data protection basics

An overview of the main GDPR changes and what they mean

A look at the key challenges your business is likely to face

What compliance should look like in your business

A practical approach to carrying out a GDPR review

Q&A
NOTES: This workshop is aimed at businesses who are BID levy payers(as partially funded by the BID) so priority will be given to business owners operating within the Ferndown & Uddens BID.
This workshop is completely free and funded by the European Regional Development Fund. It's delivered by Dorset Growth Hub & Flavourfy in working partnership with Dorset Engineering & Manufacturing Cluster and Ferndown & Uddens BID. It is only open to Dorset, UK registered SME's.
Only one place allowed per business. Please contact the Growth Hub if you wish to reserve a space for another organisation or person.
Related Post
Boost Board allows business owners space to step outside their business and share challenges with like minded people. We meet monthly to giv...
Date:                  Thursday 15 March Time:                 5.30pm – 7.30pm Location:         Queen Eli...
Date:                  Wednesday 7 March (During National Apprenticeship Week 2018)​ Time:                 4.30pm...